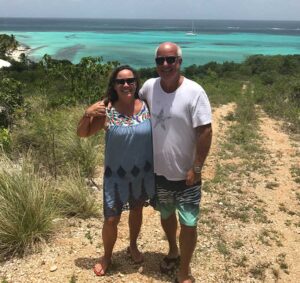 We are Don and Tracey Holloway from Beaufort, North Carolina.  Along with our partner Mike Wilson of Birmingham, Alabama we are happy to share Villa Jasmine Anguilla with you.
Tracey and I as is Mike are in the restaurant and wine business.  We all have traveled the islands and settled on Anguilla as our Island home.
We love that Anguilla has a passion for Food and Wine, fun nitelife and gracious people.  The beaches are profound .  We love our secret spots such as Nat's Palm Grove, Gwen and Tap's Reggae Bar, Omari Banks wherever he plays,.  Our friends in the restaurant biz at Veya, Sand Bar, Roys, Cuisinart and Picante to name a few.
We love the island of Anguilla and gratefully welcome you to Villa Jasmine Anguilla!
The  beauty of the island of Anguilla awaits you.  As the late Bob Marley once said…
"One Love, Let's get together and feel alright."

"The villa is lovely and we feel quite at home here. The details were taken care of. Joyce (housekeeper) does a nice job for us as well. "
Posted by Rosemary R
"We love our stay a Jasmine Villa. Our housekeeper, Joyce, came daily and was friendly, warm and efficient. The location is easy walking distance to the beach, Blanchard's and Mallouihana. At Villa Jasmine, we had everything we could want in a villa, with plenty of space as well as the privacy of the second bedroom in a separate building
"
Posted by Jean J